Jim is a member of the local tennis club for retirees and goes there to play several times a week. He has a great group of friends there and they wanted to celebrate the 20th anniversary of the club's creation. Therefore, Jim, along with some of his friends from the club, decided to throw a party at the tennis club to celebrate. They hired the Hog Roast Shepton Mallet team to provide a food buffet for the occasion.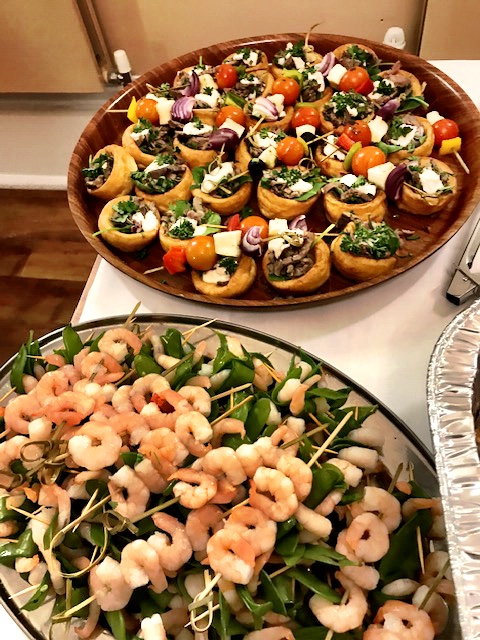 On the evening of the party, the Hog Roast Shepton Mallet team arrived and set up their tables and cooking equipment at the venue. Jim and his friends selected the private party menu six to serve to the rest of the club. This menu provided a more formal menu which was served to the table. The evening began with canapés ranging from individual mini quiches to tiger prawns to miniature Yorkshire puddings filled with beef fillet and horse radish dressing.
   Following the early evening canapés, Jim, along with the other members of the club, were seated at tables and served with a luxury three course meal cooked fresh on site by the Hog Roast Shepton Mallet team. The first course was a deliciously creamy soup served with a crusty bread roll. The club could choose between several main courses of a spit roasted spring lamb seasoned with rosemary and served with mint and a mustard and dill sauce, a local free range spit roasted chicken served with stuffing and Homemade Onion Gravy, or a vegetarian option. In addition, alongside the meats three salads were served, including a Caesar salad, a cous cous salad and a coleslaw salad, and seasonal vegetables. Furthermore, jacket potatoes and new potatoes in herb butter were served with the main courses.
Finally, the tennis club were served with their puddings of sticky toffee pudding, served with toffee sauce or handmade individual cheesecakes served with cream. Tea and coffee were served afterwards by the Hog Roast Shepton Mallet team's serving staff after the meal. The tennis club had a fantastic night and it was a great way to celebrate many long-time friendships which had been formed when the club originally started.