Hog Roast Norton Fitzwarren's latest catering event was on a bigger scale than the team had seen recently, the team had been contacted by Client Caleb several months before the event. Kind Client Caleb needed the team to prepare a lunchtime buffet for a hardworking team of 60 labourers.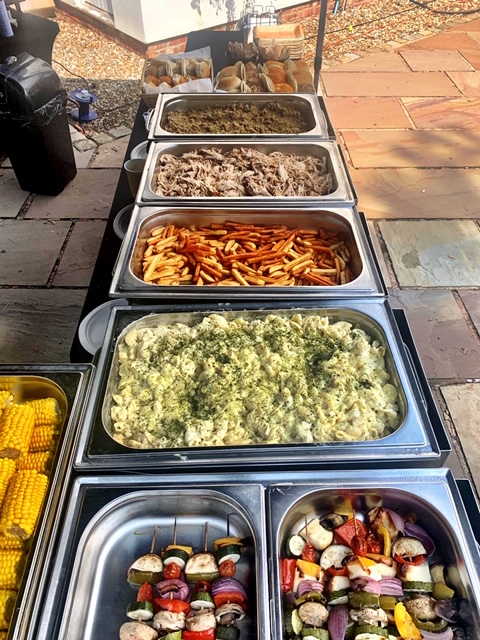 These hardworking guests would need a jot lunchtime buffet that would fill them all up and give them strength to continue working outdoors in the cool weather of late autumn. Client Caleb put together a menu with the Hog Roast Norton Fitzwarren team, one that would be sure to have something for everyone to enjoy, including vegan and vegetarian options for the guests to pick from.
Chef Alistair and his assistant arrived at the worksite hours before the staggered 12-1:30pm serving time, so that the buffet wasn't too busy at any one point. During the hours between arrival and service, the catering gazebo, cooking equipment and lights were put up, and every single dish that made up the buffet was created fresh by hand.
The delights of the buffet included meaty marinated spare ribs and a Thai chicken kebab, but there was also platters of couscous, vegetarian lasagne and BBQ pulled jackfruit. No expense was spared by Client Caleb, he wanted his workers happy to work on! There was also platters of piping hot seasonal veg and 3 types of delicious fresh salad. Finishing off the buffet was large platters of skin on potato wedges, dips and sauces and a big basket of soft gluten free rolls and wraps.
The buffet was a feast and throughout the staggered service time there was plenty of food to go round. Once it had been enjoyed, Chef Alistair quietly tidied away. He took all the rubbish, including the disposable crockery and cutlery the Hog Roast Norton Fitzwarren team had provided, away from site with him and disposed of it responsibly.
Client Caleb was delighted with Chef Alistair's hard work. The hardworking teams had a lunch that fed them well and kept up morale on a grey day, it was a very worthwhile job.